Hey Hey,
Hope you guys had a wonderful week. Can you believe it is Friday already? I can't this week just flew past. I was at my Best friend from Sunday till Thursday which was so awesome because I saw her like 3 months ago (if it isn't more). We went shopping, did a little photo shoot (we took pics of each other), I taught her the cup song and we made a video of us singing and doing the cup thing and we just chilled together :)
Back to my little mini series on halloween costumes . Today I will do a post on the awesome makeup ideas you can use.
I really hope these post helped you to lessen your search and what's cool and what's not. This is the last post on this halloween series so hope you enjoy it.
THis is one of my Favourite ones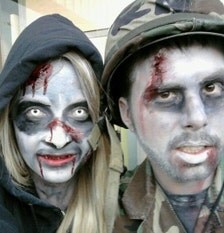 Have a fabulous weekend :)
PEACE and LOVE
Anschke XX